Hydrating Vanilla CBD Body Butter | 250mg | 2oz Jar | Yellow
CBD Body Butter • 250mg CBD
Reinvigorate dull skin with the comforting vanilla scent of Yellow's CBD body butter.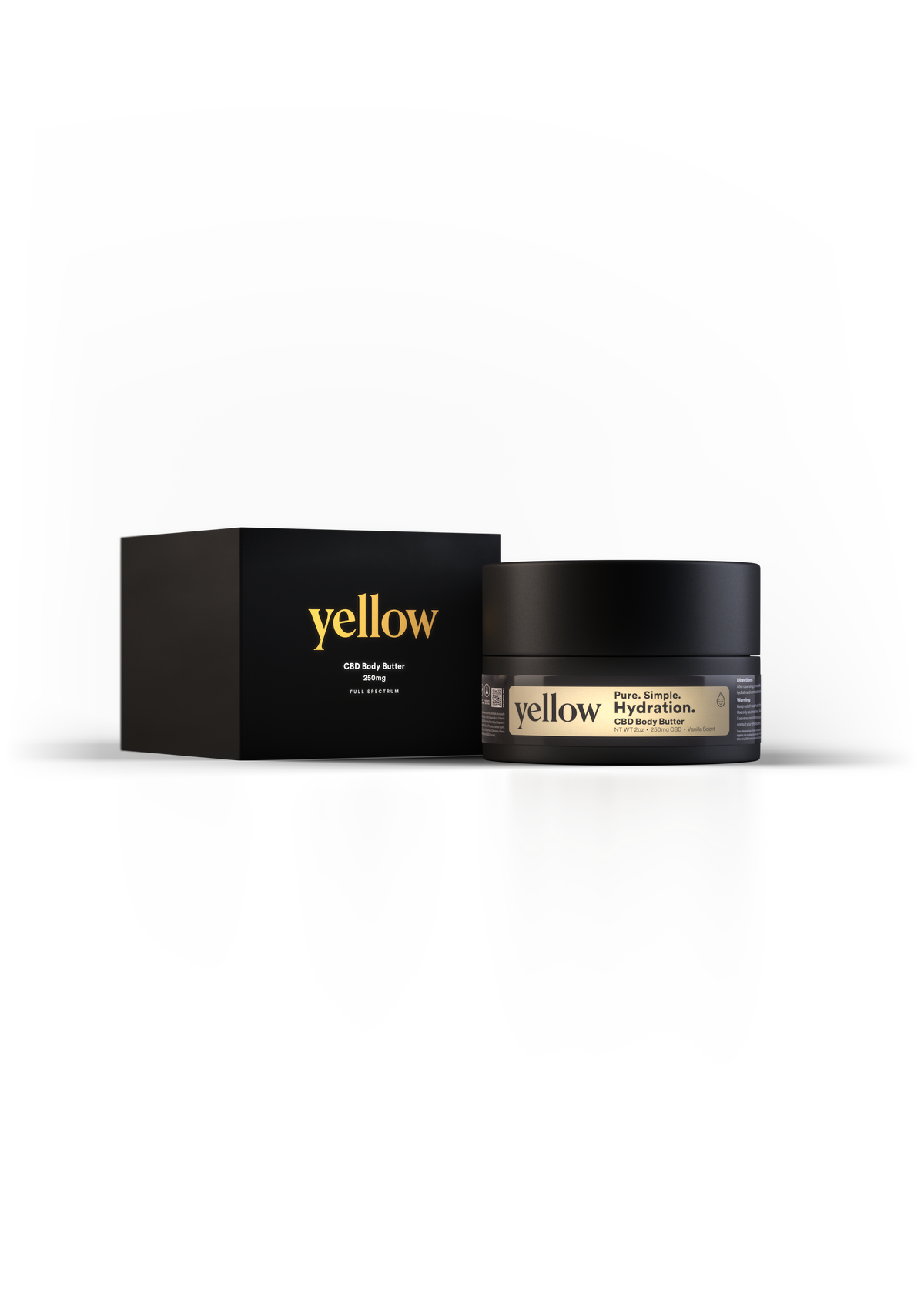 Hydrating Vanilla CBD Body Butter | 250mg | 2oz Jar
250mg CBD Body Butter in a 2oz jar. Reenergize, hydrate and rejuvenate your skin with the best smelling CBD body butter on the market.
This product feels so good and smells so good you will want to eat it. But Don't! It's for your skin and making it feel great. Use it as a CBD massage lotion and treat yourself to the delicious vanilla scent.
Pure. Simple. Hydration.
Perfect for everyday use
Non habit-forming
Made from the finest ingredients
CBD Body Butter helps:
May Promote

Calming Effect

Might help coping with external stressors

May help promote normal

hormone balance

Might support normal emotional balance

May promote normal healthy brain activity
Yellow CBD Hydration CBD Body Butter can be used for various applications like daily CBD lotion or as a therapeutic CBD massage lotion. Apply CBD body butter in the morning, the afternoon, or evening. No matter the time of day Yellow CBD Lotion may support hydrated and happy skin.

Luxurious CBD Topical Treatments
From
CBD tinctures
to
breath mints
, there is now an overwhelming number of ways to use cannabidiol (CBD). However, if you're looking for relief from pesky aches and pains or wish to treat certain skin conditions, a high-quality topical like our body butter might be your answer.
Our CBD body butter is a topical treatment that's infused with pure, domestically-grown CBD and can be applied directly to your beautiful skin.
While research on CBD is still in its infancy, the anecdotal evidence and little scientific research we do have about CBD butter are promising.
In 2016,
a study
was done on rats and discovered that applying CBD topically may help manage the pain and inflammation associated with arthritis.
If you need more convincing, the
American Academy of Dermatology
recently suggested using a CBD body butter might be a useful tool for acne, eczema, and psoriasis when used in conjunction with other treatments.
However, not all CBD butters are created equal. The effectiveness of a CBD topical depends on a collection of factors, including where it was sourced, and the quality of CBD used.
Say Hello to Yellow
So, in a sea of sketchy CBD suppliers, how can you know you're getting an effective CBD lotion from an honest company?
Yellow makes it easy.
When you order from us, you always receive the highest-quality CBD tinctures, beauty products, topical treatments, and more. Our hemp oil is derived from domestically grown cannabis and put through a strict internal quality control process to ensure you receive the highest quality pharmaceutical grade CBD on the market.
Unlock your Best Skin
Happy, hydrated skin starts with our vanilla-scented
CBD body butter.
Ingredients
Organic Aloe Leaf Juice, Organic Shea Butter, Emulsifying Wax, Glycerin, Witch Hazel Water, Cocoa Butter, Stearic Acid, Phenoxyethanol, Vitamin E, Sunflower Seed Oil, Rose Flower Water, Mango Seed Butter, Organic White Willow Bark, Organic Rosemary Leaf Extract, Organic Sunflower Seed Oil, Organic Neem Seed Oil, Sweet Orange Peel Oil, Lavender Flower Oil, Xanthan gum, Alcohol, Tetrasodium Glutamate Diacetate, Vanilla Essential Oil, Hemp Cannabinoid (CBD) Extract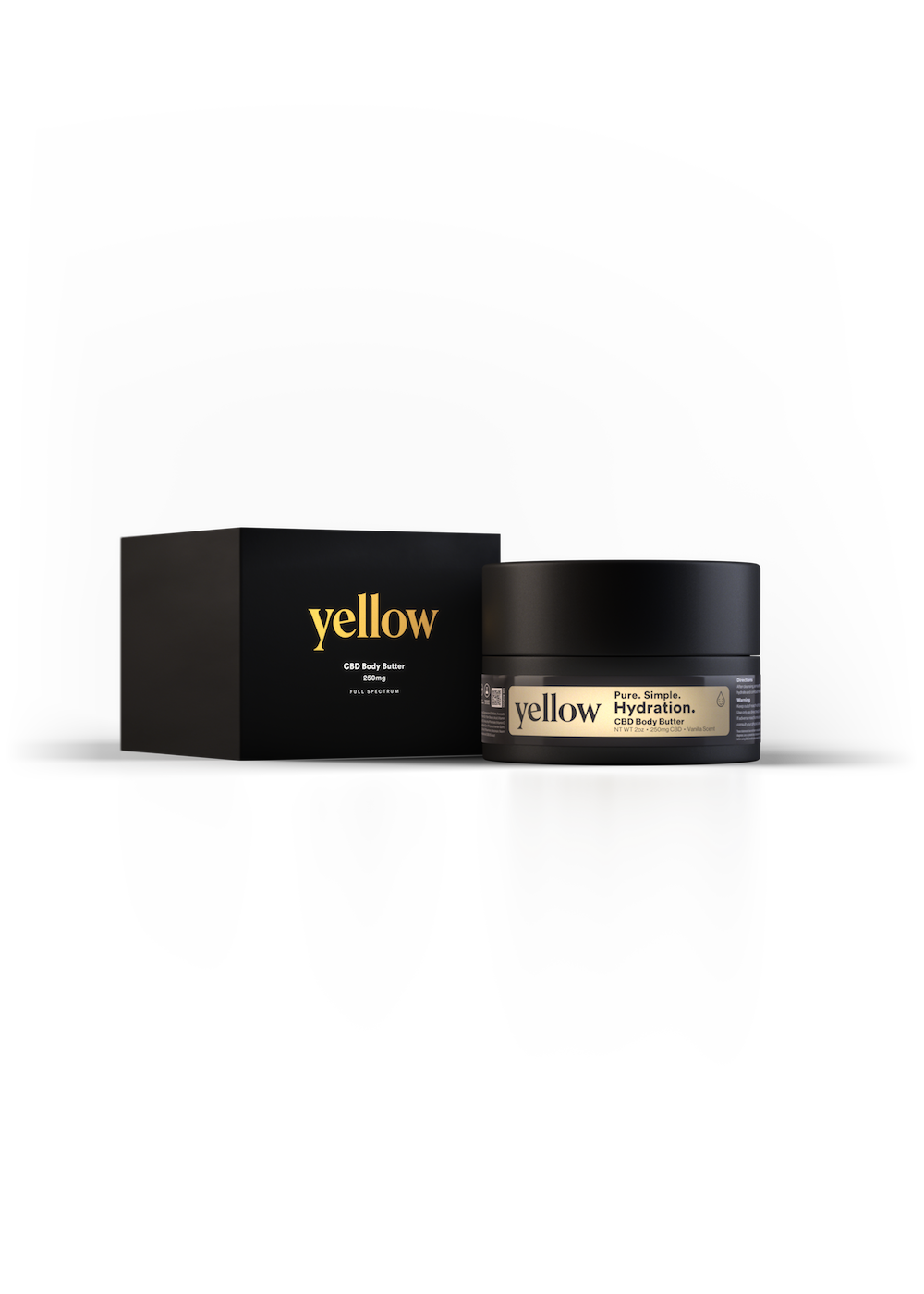 How to use CBD Body Butter
Remove CBD Body Butter Lid
Apply generously to dry and fatigued skin.
Enjoy the hydrating and rejuvenating powers of CBD body butter!
Yellow CBD Body Butter is Cruelty Free and manufactured in a facility that is GMP (Good Manufacturing Practices) Certified. And will all Yellow CBD products, this CBD Muscle Cream is Third Party Lab Tested for Purity and Quality.